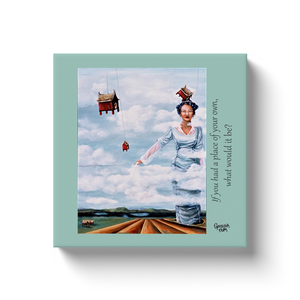 Canvas Wraps - A PLACE OF HER OWN
$7895

$78.95
Tax included.
Shipping
calculated at checkout.
---
---
A PLACE OF HER OWN
If you had a place of your own, what would it be?
A meditation exercise in self-agency.
What would it look like? Feel like? Smell like? What sounds, what scents are wafting through? What do you do there? Who gets to come in? What do you allow to happen there?

Printed on high quality, artist grade stock and folded around a lightweight frame to give them a gorgeous, gallery ready appearance. With acid free ink that will last without fading or chipping, Features a scratch-resistant UV coating. Wipes clean easily with a damp cloth or to remove dust, vacuum gently using a soft brush attachment.
Thank you for supporting the art and thought processes that come through intuition.
Gratitude, Cynthia
Visit www.cynthiatom.com for more information on my original artwork , workshops and newsletter.
Visit aplaceofherown.org for more thoughts on healing through using your imagination, overcoming generations of conditioning and colonization. Cynthia Tom founder.
Copyright Cynthia Tom 2020. No reproduction without permission.
Shipping times: Standard US: 5 to 12 business days (but historically ships between 3 to 5 business days.
Available to ship in US only. I am a micro  business and the international tax and VAT arena elude me. If you want something internationally, that would be a separate conversation and not automated.