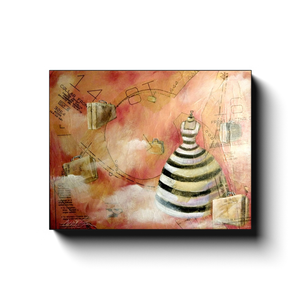 Canvas Wraps - Giving Their Stories Wings
$8895

$88.95
Tax included.
Shipping
calculated at checkout.
---
---
Giving Their Stories Wings (part of the Feminine Empowerment collection)
Original painting is 11 x 14 acrylic and vintage dress pattern tissue on canvas. In the private collection of Teresa Jade LeYung
"Giving the Stories Wings" – Amy Lam, an intuitive healer, told me to stop holding everyone else's suitcases full of their stories. Lighten the burden, set the stories, the suitcases free. They were crowding my heart. I thought they were my cross to bear. 
Right here in this moment, wake up to the fact that others' lives belong to them. You can set their stories free. They are not your story, they are not your responsibility, theirs is not your life to lead. Lead your life, it's time to start claiming your own suitcase, your story.
Amy Lam said omg you have 100's of suitcases in your heart. Let them out, set them free. These are not your stories to meddle in. It is not your job to fix them.
Link to Amy http://amygracelam.com/
Amy is a licensed practitioner and longtime friend, fellow women's advocate and colleague focused on community wellbeing.
Printed on high quality, artist grade stock and folded around a lightweight frame to give them a gorgeous, gallery ready appearance. With acid free ink that will last without fading or chipping, Features a scratch-resistant UV coating. Wipes clean easily with a damp cloth or to remove dust, vacuum gently using a soft brush attachment.
Gratitude, Cynthia
Visit www.cynthiatom.com for more information on my original artwork , workshops and newsletter.
Shipping times: Standard US: 5 to 12 business days (but historically ships between 3 to 5 business days.
Available to ship in US only. I am a micro  business and the international tax and VAT arena elude me. If you want something internationally, that would be a separate conversation and not automated.