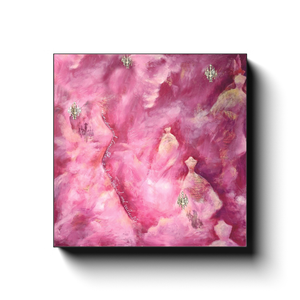 Canvas Wrap - Accepting The "I Am"
$7595

$75.95
Tax included.
Shipping
calculated at checkout.
---
---
"I Am"
Choosing to define I AM from a spiritual perspective versus a religious reference, I AM, for me, refers to an understanding that I am inherently connected to the larger Universe, an integral component of Spirit, guided and gifted. This is the Spirit that resides inside every human heart and is the heart of the Universe and beyond. 
"You are never an imposition. You are here on purpose.
We mistakenly *think what others *think of us, we *think we are.
Boundaries derived from our genetics, cultural heritage and life experiences and relationships are learning tools to mold us for our life's work, not to block us.
You do not need approval from others., You are invaluable.
In your stillness within, you understand who you are and awaken to the possibilities of your existence.
We are a spiritual being having a human experience.
I AM"
Printed on high quality, artist grade stock and folded around a lightweight frame to give them a gorgeous, gallery ready appearance. With acid free ink that will last without fading or chipping, Features a scratch-resistant UV coating. Wipes clean easily with a damp cloth or to remove dust, vacuum gently using a soft brush attachment.
Gratitude, Cynthia
Visit www.cynthiatom.com for more information on my original artwork , workshops and newsletter.
Visit aplaceofherown.org for more thoughts on healing through using your imagination, overcoming generations of conditioning and colonization. Cynthia Tom founder.
Copyright Cynthia Tom 2020. No reproduction without permission.
Free Standard Shipping in the US.
Shipping times: Standard US: 5 to 12 business days (but historically ships between 3 to 5 business days.
Available to ship in US only.
I am a micro  business and the international tax and VAT arena elude me. If you want something internationally, that would be a separate conversation and not automated.